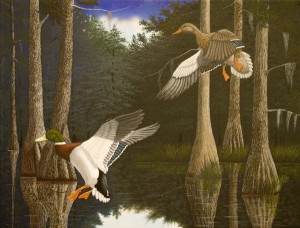 I have always been a wildlife lover, expecially ducks, and now have taken the next step in this admiration. I am excited to tell you about a new organization I'm priviledged to be associated with. I recently joined forces with Art for Conservation, and through this association, am pleased to announce that we have wildlife conservation prints for sale.
Together, we have pledged 1% of the profits from the sale of these prints to go directly to wildlife conservation. Art for Conservation is an organization that joins forces with artists and photographers to help raise money for wildlife conservation. Each of us dedicate a percentage of our profits to the wildlife organization of our choice.
Art for Conservation members believe that through partnerships with conservation photographers, artists and organizations, they create and market fine art prints in support of causes both large and small.
To support that belief, Art for Conservation members pledged $509,810.00 to go to Ducks Unlimited through the sale of member's artwork. Members allocate a percentage of each sale of their artwork to go to their conservation efforts and nationwide, this amounts to huge benefits to wildlife in general.
Through this venture, I have chosen Ducks Unlimited as the recipient of the percentage of my profits from the sale of each print that is sold. Since it's inception, Ducks Unlimited has set aside over 12,000,000 acres of wetland habitat for waterfowl.
I currently have four of my latest paintings set aside for this worthy project and hope to add more as they are completed. You can view these prints by clicking the link at the end of this post. After you purchase one or more of my prints, stay and look around. You might find some other works that you like.
So let's join the cause for wildlife conservation, you buy one or more of the prints for sale, and I'll give back to Ducks Unlimited. We all win!
Until next time, keep your brushes clean, your colors pure, and as always, thanks for stopping by the North Forty.
Regards,

P.S.
Purchase your prints through Art for Conservation today. By making your purchase through this link, you will helping to support North Forty Wildlife Art and Ducks Unlimited, and your support will allow us to continue to bring you quality content.
Thank you.