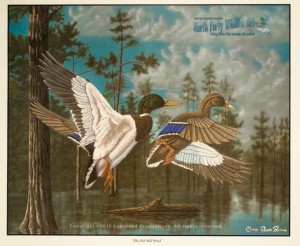 In today's post, I want to tell you about a limited-time special that we are running on the waterfowl print entitled "The Old Mill Pond".
This print is a limited edition, offset lithograph waterfowl print featuring a pair of mallard ducks lifting from the waters of an old secluded grist mill pond. The pond in this scene is located near where I grew up in south Georgia. The old grist mill burned down several years ago, but the mill pond is still there.
The print was selected by the Madison County Alabama Ducks Unlimited Chapter as their Duck Print of the Year for 1991. The prints are all hand-signed and numbered and accompanied by a Certificate of Authenticity.
The current selling price for this print is $125.00, but for a limited time, we will be offering the print for only $85.00. Purchase "The Old Mill Pond" through this link today and mention that you saw this post, and we'll take an additional $15.00 off the price.
Imagine owning this limited edition print today for only $60.00. Now that's a deal you can't pass on.
Until next time, keep your brushes clean, your colors pure, and as always, thanks for stopping by the North Forty.
Regards,

P.S.
This offer will expire April 1, 2011, so order you print today. By making your purchase through this link, you will helping to support North Forty Wildlife Art and your support will allow us to continue to bring you quality content.
Thank you.