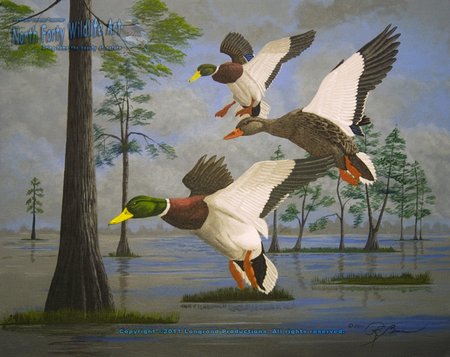 Today, I finished my latest Mallard Duck painting in my Wildlife Art Series entitled "The Haven" and I'll talk a little about how this painting came about.
I first started this painting back on December 18, 2010 as an experiment in just painting for the fun of it, and talked about that process in Painting for Fun. When I started the painting, I did not use my normal method of planning for the painting. I just set up a canvas, mixed some colors, and went to work.
I did want the painting to have sort of a gray, darker cloud effect, so I mixed my color palette with more grays than I normally use. This gave the painting a more subdued look than what I ordinarily paint. All of this took me about an hour and a half to complete.
On December 19, I decided that I wanted some cypress trees in the scene. At that time, I did pull some of my reference photos and found the cypress trees I wanted to include in this painting.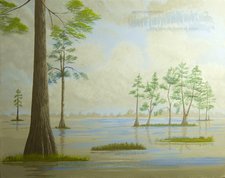 I explained that process in Painting Trees. Here is the outcome of that part of the creation of this painting. I still did not know what the outcome of this painting was going to be. Through this stage of the painting, I was still winging it, so to speak.
I then began researching my mallard duck reference photographs to find the right ducks for this scene. I normally only paint mallard ducks in pairs, so I decided to stray from that standard in this painting too. I finally decided on three poses that I thought would fit well into this scene.
I wanted the mallard ducks for this painting to be in a landing position, and if possible, converging on a spot near the large tree in the left foreground of the scene. I think I found just the right poses for these three ducks and now they are complete and safely at home in "The Haven".
Until next time, keep your brushes clean, your colors pure, and as always, thanks for stopping by the North Forty.
Regards,

 P.S.
Purchase this painting today. By making your purchase through this link, you will helping to support North Forty Wildlife Art and your support will allow us to continue to bring you quality content.
Thank you.