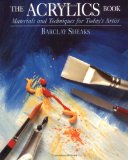 In order to fully develop your skills as an artist, your education must come from a variety of sources. Websites like this one are great resources, but the way I learn anything best is by reading from books. It's something I can hold in my hands, flip back and re-read sections, and skip ahead to other sections in the book.
The Acrylics Book: Materials and Techniques for Today's Artist
 is one of the best acrylics techniques books I've found anywhere. Unrivaled in scope, this encyclopedic reference on the most versatile of all painting mediums is an excellent tool to help both beginning and seasoned artists produce their best work in acrylics.
With its great flexibility, acrylic paint can mimic the appearance of oils, tempera, and watercolors in unique ways, each method pictured in a separate step-by-step demonstration. The author also examines the use of acrylics with airbrush, sculptural, and printing techniques-even three-dimensional relief painting and collagraphy printing methods are included-and how several of these different creative processes can be integrated successfully in one composition with ink, pencil, charcoal, and pastel. Inspiring examples of representational and abstract subjects are depicted throughout, and a complete survey of all the latest acrylic materials covers the best paint brands, painting mediums, supports, varnishes, brushes, knives, and palettes.
Here are some great reviews about the book;
By 
This review is from: The Acrylics Book: Materials and Techniques for Today's Artist
This is an excellent guide to acrylic painting. It offers in depth background information as well as numerous step-by-step technique demonstrations. There are also many great example paintings throughout the book.
The book starts out with an overview of nine different paint brands including their characteristics, strengths and weaknesses. It then covers mediums, varnishes, modeling paste and gesso as well as supports, grounds, brushes, knives and other tools. Other background information such as selecting a color pallet, protecting finished works and caring for tools is here as well. There are even demonstrations on stretching and priming a canvas as well as preparing panels.
Basic concepts such as mixing paint, blending with both soft and hard edges, layering, scraping and spraying are covered next. Demonstrations include mixing paints on the pallet and creating a hard edge with masking tape. Color characteristics and relationships are also discussed.
Acrylic painting techniques follow, starting with a discussion of how to plan a painting and draw a preliminary sketch. You will find out how to use acrylics to mimic other styles of painting such as watercolor, opaque watercolor, oil painting and egg tempera. There is further instruction on how to combine techniques, paint on a wet canvas, create a collage, work with a gel medium and make a relief painting. Using acrylics with other media and in craft applications is also explored. Brief demonstrations show how they can be used with pencil and wash, colored pencil, lithography crayon, pastels and oil pastels.
There is a good list of suppliers and a detailed index. I recommend this book for acrylic painter of all levels because of its excellent coverage of both materials and a wide range of techniques.
By 
This review is from: The Acrylics Book: Materials and Techniques for Today's Artist
This is a great book on acrylic painting whether you are a beginner or an accomplished painter, one of the best I have found, and I am quite a collector of "how to" books as I am basically a self taught painter. It includes many easy step by step lessons using the techniques used by the author to paint realistic looking pictures, or, techniques to use for any style painting you prefer. Painting in acrylics is not that easy to do because they dry so fast but the instructions in this book help you learn how to get professional looking results in a short period of time. I find this book to be user friendly and much more informative than most of the books out there on acrylic painting. And, it doesn't spend half the book talking about brushes, paper, etc. It is a technique orientated instructional book. I like this book so much I have given it to friends as a present. 5 stars!
By A Customer
This review is from: The Acrylics Book: Materials and Techniques for Today's Artist
This book is really quite excellent. Using clear, concise and friendly language Mr. Shears starts with a short but invaluable description of what's out there as far as paints, brushes, etc., comnpares them and suggests what you need to get started. After spending an hour in the brushes aisle frozen from indecision and sensory overload, it was a huge help to have someone say 'Buy, this and this to get started.'
The chapters are well defined and the pictures are generously distributed. My only criticism (hence 4 out of 5 stars) is that it would have been nice to see a more diverse representation of artwork. I understand the book may be somewhat of a platform for Mr. Shears, but i would have benefitted and enjoyed seeing different styles represented. There are a few, but the majority is Mr. Shears own work.
That aside, after looking at MANY books on the subject, i wholeheartdly endorse this one.
I highly recommend this book for your art education library. Well until next time, keep your brushes clean, your colors pure, and as always, thanks for stopping by the North Forty.
Regards,

P.S.
The Acrylics Book is a great book and you can purchase it here. By clicking the link and making your purchase through North Forty Wildlife Art, you will be helping support this site and your support will allow us to continue to bring you quality content.
Thank you.