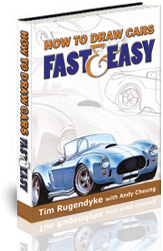 As a wildlife artist, it is very important to be able to draw images correctly. If I'm trying to draw ducks and they don't look like they are supposed to, the duck enthusiasts out there will be very critical of my work and will not appreciate what I'm trying to portray.
Learning to draw comes in a variety of forms. I've found numerous books for sale that teach you how to draw different objects. Each has it's merits and each has it's drawbacks. I recently found a book that really has nothing to do with wildlife art but everything to do with drawing. This book is very detailed in describing how to draw cars. Now I know what your thinking. What does drawing cars have to do with drawing ducks. Well everything really. When you learn to draw accurately, no matter what the subject, that knowledge can be translated into any facet of art. I started out drawing cars early on and then moved on the wildlife. And besides, not everyone wants to be a wildlife artist.
I found this article about drawing cars and decided to share it with you in this post.
Dear Friend,
If you've ever wanted to draw cars quickly and easily … using the exact same insider tips and techniques of the pros … produce amazing drawings of your favorite cars effortlessly … and fast track your drawing skills to the levels of the pros without spending thousands of dollars and years attending college … then this is going to be the most exciting message you'll ever read!
Here's why…
My name is Tim Rugendyke. And for the past 15 years I worked as an automotive designer for companies such as Ford and General Motors as well working on countless international transportation design projects spanning America, Europe, Asia and Australia. I also lecture at Australia's leading design school teaching aspiring designers how to draw cars like a pro.
And through a long and painstaking process of trial and error and working with the best in the industry, I have discovered the insider secrets that are 100% guaranteed to get you drawing amazing cars fast and easy…even if you've never drawn a thing in your life before!
And now for the first time ever, I've put it all together in one comprehensive step-by-step guide called…
 
How To Draw Cars Fast and Easy
"The Insider Secrets To Drawing Cars Like the Pros"
How to Draw Cars Fast and Easy is a 134 page car drawing guide in downloadable e-book format, jam-packed from cover to cover with all the tips and techniques previously known by only a small handful of professional designers. This program contains all the information you'll ever need to draw perfect looking cars quickly and easily that will amaze your friends.
This e-book has over 144 high-quality illustrations and photos which give you step-by-step instructions on how to become a expert at car drawing in no time at all. It is choc-full of tutorials on every aspect of drawing cars as well as providing all the necessary theory to get you up to speed on the key principles fast.
You can either pick and choose what you want to know and have the practical instructions to get you started straight away. Or learn the foundations to help you draw any car you want…FAST.
This is a complete step-by-step guide to drawing cars fast and easy that you'll be referring to for years to come.
Check it out and I think you'll be amazed at what you can learn and how what you learn can be applied to other aspects of your art. Until next time, keep your brushes clean, your colors pure, and as always, thanks for stopping by the North Forty.
Regards,

P.S.
You can purchase How to Draw Cars Fast and Easy here. By clicking the link and making your purchase through North Forty Wildlife Art, you will be helping support this site and your support will allow us to continue to bring you quality content.
Thank you.