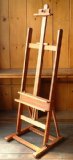 If you're looking for a great studio easel, you've got to give this one a serious look. The price is affordable and it's a quality piece of equipment.
The Bassett Studio Easel
 is perfect for the apartment or small studio but large enough to solidly accomodate canvasses up to 39 inch. Maximum easel height is 86 inches minimum 54-1/2 inches. Has a fine furniture finish leveler feet and is easy to assemble. The base measures 20-1/2 inches wide by 21 inches deep. The tray width is 19-3/4 inches by 2-1/2 inches deep. This easel also has a ratchet system and can be tilted past vertical for pastelists or to simply reduce glare. The canvas holder is 18-1/2 inches wide and holds up to a 1-1/4 inch wide canvas. A completely adjustable easel for every painting need.
In later posts, I'll discuss more studio equipment. Until then, keep your brushes clean, your colors pure, and as always, thanks for stopping by the North Forty.
Regards,

P.S.
If you're an artist click here to purchase your wooden easel. By clicking the link and making your purchase through North Forty Wildlife Art, you will be helping support this site and your support will allow us to continue to bring you quality content.
Thank you.