Ducks Unlimited is, in my opinion, one of wildlife art's greatest allies. Not only does the organization provide wildlife artists and waterfowl artists a huge potential for revenue from the sale of artwork, they provide an ever growing resource from which artists can pull from in terms of habitat for the ducks on which we so desperately depend.
Back in 1937, a group of sportsmen decided it was time to do something about the dwindling waterfowl population in North America. Their mission was then, and still today, is "wetlands sufficient to fill the skies with waterfowl today, tomorrow and forever". According to a January 1, 2010 report from Ducks Unlimited, over 12 million acres of waterfowl habitat has been conserved as a result of the organization's efforts. These efforts keep waterfowl artists millions of acres of habitat from which to create images of ducks of all types and sizes. Without this resource, there would be no demand for the art we produce.
And then, of course, there is the revenue provided to artists from the commission and sale of the artwork itself. Ducks Unlimited chapters across North America commissions hundreds of images annually for their fund raising efforts. I was honored in 1991 with just such an event for my painting entitled "The Old Mill Pond".
From the original painting, I had produced a limited edition offset lithograph print of 500 signed and numbered prints. Shortly after I released the print, I received a call from a representative of the Madison County Alabama Ducks Unlimited Chapter advising me that they had selected my print as their Duck Print of the Year for 1991. I was invited to their annual banquet for a print signing and meet-and-greet with all the members. That was an event of a lifetime for my wife and I.
Hundreds of artists from around the world have been involved in producing Ducks Unlimited artwork. From duck stamp art to magazine art, the revenue as a result of Ducks Unlimited has been phenominal. As waterfowl artist, we own this organization a huge debt of gratitude.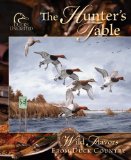 So again I say, waterfowl artists and Ducks Unlimited are a match made in heaven. Until next time, keep your brushes clean, your colors pure, and as always, thanks for stopping by the North Forty.
Regards,

P.S.
The Hunter's Table would make a great addition to your recipe book collection. By clicking the link and making your purchase through North Forty Wildlife Art, you will be helping support this site and your support will allow us to continue to bring you quality content.
Thank you.