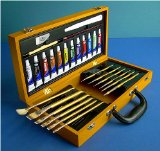 Artists are like songwrites in a sense. If you listen to much music, the songs that most songwriters produce sound very similar from song to song. The words are different, and the melody is different, but the style and the mood of the songs are frequently very similar.
Artists seem to do the same thing with their paintings. The image may vary from painting to painting, but the overall theme of each painting is usually very similar. This is because the majority of artists usually stick with the same set of colors, and paint using the same techniques for each painting they produce.
As a wildlife artist, I'm no different. I use a very basic set of colors for the majority of my paintings. These colors are ultramarine blue, ivory black, titanium white, burnt umber, sap green, crimson, and cadmium yellow medium. Occasionally, I'll use cobalt blue instead of ultramarine blue, depending on the tone I want in the sky and water in the painting.
I buy my paints in the 200 ml tubes from Windsor and Newton. I do this because of the way I mix paints in 2 oz. cups instead of on a palette. Because I use exact recipes for mixing my paint colors using digital scales to measure the paint and the water, I can achieve a high degree of consistency with my paints. I like the fluidity this technique gives me with the acrylic paints I use.
Think about your favorite songwriter and your favorite artist and I think you'll agree that they both follow a similar theme in their work. Until next time, keep your brushes clean, your colors pure, and as always, thanks for stopping by the North Forty.
Regards,

Thank you.